products
Buttweld Fitting accomplish a lot of admiration by our clients owing to its high strength, dimensional correctness, high tension power, corrosion resistant and consistency. These products are used in various commercial, industrial and automobile industries. We manufacture these fittings using high grade of raw material by implementing most ultra modern technology. These products are clients can avail from us at various sizes, shapes and design as per the requirements.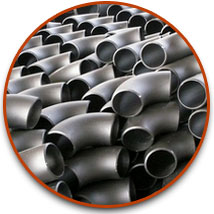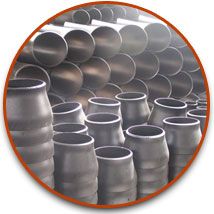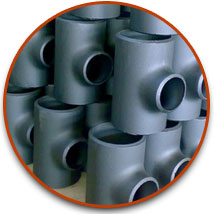 Stainless & Duplex Steel:
RANGE : 
15 NB UP TO 1200 NB IN SCH 5S,10S ,10, 20,40S,40,STD,60,80S,80,XS,100,120,140,160 & XXS.
FORM : 
SEAMLESS & WELDED LONG RADIUS & SHORT RADIUS ELBOW 90 DEG,LONG RADIUS ELBOW 45 DEG ,Long Radius & Short Radius Elbow 90 Deg,Long Radius Elbow 45 Deg,Long Radius & Short Radius Elbow 180 Deg ( Return Bend ),Reducing Elbow,Equal Tee,Un Equal Tee, Crosses,Concentric Reducer,Eccentric Reducer,Long Stubend,Short Stubend,Coller,Pipe Cap,Long Radius Bends R =3 D,5 D,6 D,8 D ,10 D & 20 D In 15 Deg ,30 Deg, 60 Deg & 90 Deg And Drawing Bassed Butt Weld Fitting ( Customised ).
Stainless Steel : 
ASTM / ASME SA 403 GR WP "S" / "W" / " WX" 304,304L ,304H, 304N,304LN,309, 310H,316,316H,317,317L,321,321H,347,347 H 
Duplex Steel 
ASTM / ASME SA 815 UNS NO.S 31803,S 32205,S 32550,S 32750,S 32760 .

Carbon & Alloy Steel
RANGE : 
15 NB UP TO 1200 NB IN SCH 5S,10S ,10, 20,40S,40,STD,60,80S,80,XS,100,120,140,160 & XXS.
FORM : 
SEAMLESS & WELDED LONG RADIUS & SHORT RADIUS ELBOW 90 DEG,LONG RADIUS ELBOW 45 DEG ,Long Radius & Short Radius Elbow 90 Deg,Long Radius Elbow 45 Deg,Long Radius & Short Radius Elbow 180 Deg ( Return Bend ),Reducing Elbow,Equal Tee,Un Equal Tee, Crosses,Concentric Reducer,Eccentric Reducer,Long Stubend,Short Stubend,Coller,Pipe Cap,Long Radius Bends R =3 D,5 D,6 D,8 D ,10 D & 20 D In 15 Deg ,30 Deg, 60 Deg & 90 Deg And Drawing Bassed Butt Weld Fitting ( Customised ).
Carbon Steel : 
ASTM / ASME A 234 WPB,WPC 
ASTM / ASME A 860 WPHY 42,WPHY 46,WPHY 52,WPH 60,WPHY 65 & WPHY 70 .
Alloy Steel : 
ASTM / ASME A 234 WP 1, WP 5, WP 9, WP 11, WP 12, WP 22, WP 23, WP 91

Nickel & Copper Alloy
RANGE : 
15 NB UP TO 1200 NB IN SCH 5S,10S ,10, 20,40S,40,STD,60,80S,80,XS,100,120,140,160 & XXS
FORM :
SEAMLESS / ERW / WELDED IN ROUND & SQUARE.
Nickel Alloy: 
ASTM / ASME SB 163 UNS 2200 ( NICKEL 200 )
ASTM / ASME SB 163 UNS 2201 (NICKEL 201 ),
ASTM / ASME SB 163 / 165 UNS 4400 (MONEL 400 )
ASTM / ASME SB 464 UNS 8020 ( ALLOY 20 / 20 CB 3 ),
ASTM / ASME SB 704/705 UNS 8825 INCONEL (825)
ASTM / ASME SB 167 / 517 UNS 6600 (INCONEL 600 )
ASTM / ASME SB 167 UNS 6601 ( INCONEL 601 ), 
ASTM / ASME SB 704 /705 UNS 6625 (INCONEL 625) 
ASTM / ASME SB 619/622/626 UNS 10276 ( HASTELLOY C 276 )
Copper Alloy : 
ASTM / ASME SB 111 UNS NO. C 10100,10200,10300,10800,12000,12200, 70600,71500 .
ASTM / ASME SB 466 UNS NO. C 70600 ( CU -NI- 90/10),C 71500 ( CU -NI- 70/30)

Hastelloy
GRADES : 
Hastelloy C-22, Hastelloy C-276, Hastelloy C-2000
STANDARD :
ASTM / ASME SB 336 & XXS
TYPES :
Bend (Long & Short)
Elbow (180 Deg., 90 Deg. & 45 Deg.)
Tee (Equal & Unequal)
Reducer (Concentric & Eccentric)
CAP, Stub end (Long &Short)
Nipple (Barrel)

Inconel

GRADES : 
Inconel 600, Inconel 601, Inconel 625, Inconel 625LCF, Inconel 686, Inconel 718, Inconel 800, Inconel 825, Inconel X-750
RANGE : 
15 NB UP TO 600 NB IN SCH 5S, 10S,10, 20, 40S, 40, STD, 60, 80S, 80, XS, 100, 120, 140, 160 & XXS
TYPES : 
Elbow 90 Deg, Elbow 45 Deg, Elbow 180 Deg, long/short radius elbows, equal/unequal tees, concentric/eccentric reducers, caps, crosses, short/long neck stub-ends

Incoloy

GRADES : 
Incoloy 800, incoloy 825, Incoloy 925, Incoloy a-286, Incoloy DS
STANDARD :
 ASTM B366
TYPES : 
Bend (Long & Short)
Elbow (180 Deg., 90 Deg. & 45 Deg.)
Tee (Equal & Unequal)
Reducer (Concentric & Eccentric)
CAP, Stub end (Long &Short)
Nipple (Barrel) 

Monel
GRADES : 
Monel 400, Monel k500
RANGE : 
1/2" NB to 36" NB
TYPES : 
long/short radius elbows, equal/unequal tees, concentric/eccentric reducers, caps, cross, short/long neck stub-ends

Titanium
GRADES : 
Grade 1, Grade 2, Grade 3, Grade 4, Grade 5, Grade 7, Grade 9, Grade 23
RANGE : 
15 NB To 600 NB in Sch.:5,10,20,40,80,120,160,XS, XXS.
TYPES : 
Bend (Long & Short)
Elbow (180 Deg., 90 Deg. & 45 Deg.) Tee (Equal & Unequal)
Reducer (Concentric & Eccentric)
CAP, Stub end (Long & Short) 
Nipple (Barrel) 

---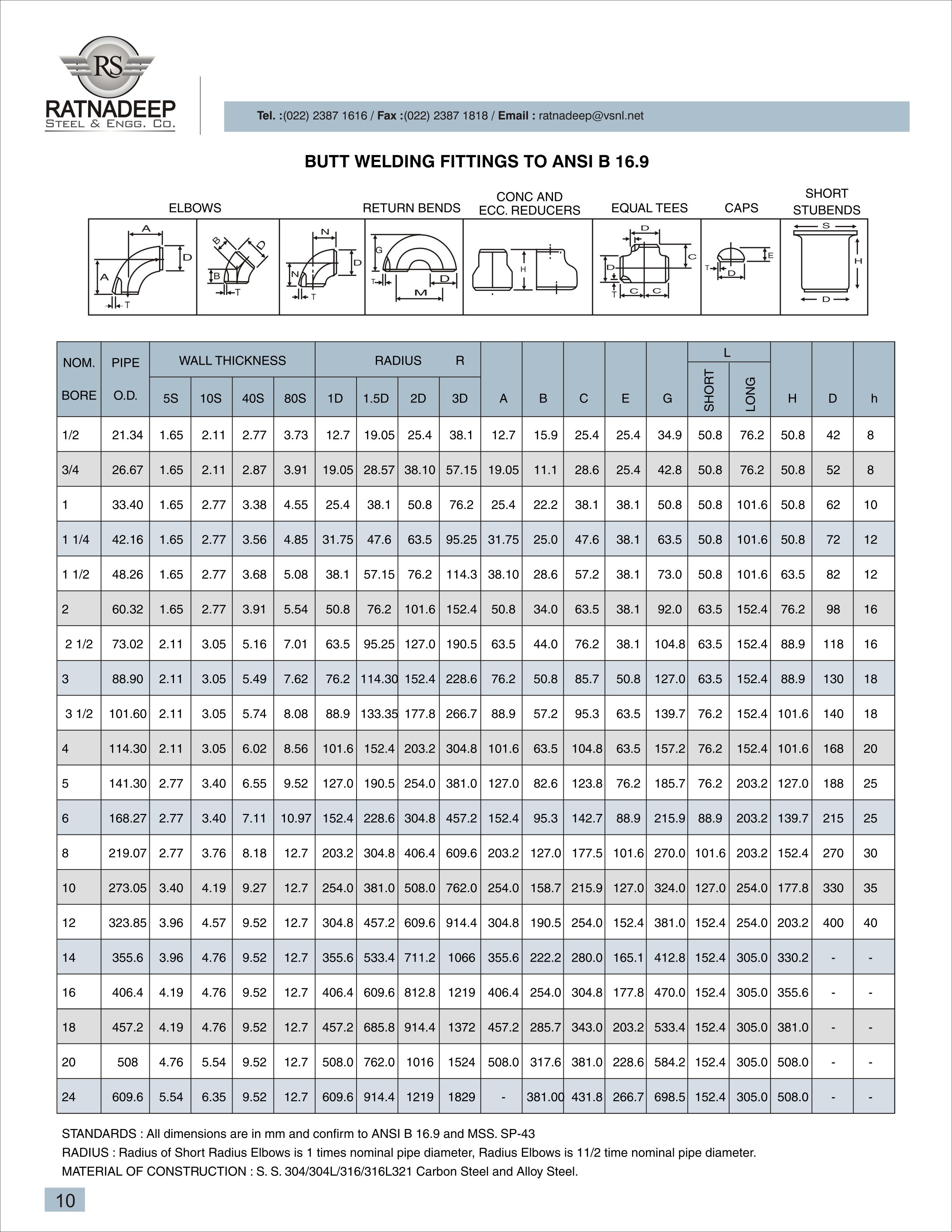 ---

Quick Links :
---